Dealership Used Truck Specials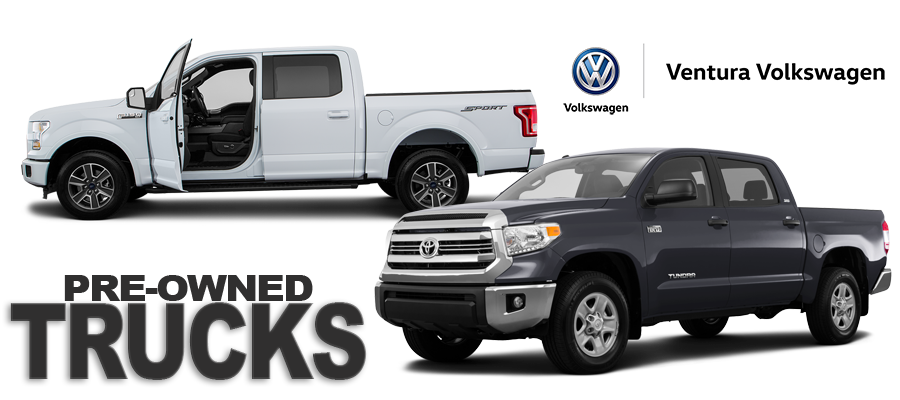 Used Trucks for Sale near Ventura, CA
If you live in the Ventura or Oxnard areas, it's a probability that you frequently visit Los Angeles or Santa Barbara. During these visits, many have wished for a bigger truck to haul more friends and family, or some just to simply carry more cargo. Whatever the case may be, we have a solution.
At Ventura Volkswagen, our used inventory usually consists of cars, trucks, vans, and SUVs. If you're looking for something to haul passengers and equipment across town or from city to city, you'll need an automobile that has plenty of room. Trucks are known for their versatility. When you visit our dealership, you'll notice that we usually carry double cab, crew cab, and regular cab models.
If you've taken a look at our inventory and don't see what you're looking for, be sure to contact us, so we can search the area for you. Who knows, you might find something else you love. If you do see something you're interested in, don't hesitate to reach out. Our used inventory moves fast, and you don't want to miss out on a great deal.
Buying Pre-Owned Trucks in California
Don't ever worry about purchasing a used vehicle from Ventura Volkswagen. Our experts diligently examine each vehicle. If a problem arises, they fix it immediately. Before we list an automobile as available for purchase, we make certain that it has been thoroughly inspected.
Call us at (833) 214-7714, so one of our associates can answer your questions and assist you. We pride ourselves on outstanding customer service and we want to see you satisfied.
Truck Service & Maintenance Centers at Ventura Volkswagen
When we were young, we were told that California is where people dream big. What mentors sometimes fail to mention, however, is that those dreams come with a price. To be successful, it takes hard work and determination.
The same can be said for your truck. To own a truck that's a success on the road, it's important to put in the work to make it great. In order to do this, we recommend visiting our service center. When you bring your truck to our service center, our trained technicians will work quickly and efficiently to give your truck the utmost care.
Stop by and see us today at 3270 Perkin Avenue, Ventura, CA 93003. Our team will show you around and let you take a test drive. What better way is there than to see your dream vehicle up close and personal?