How much space does the 2019 Volkswagen Jetta have?
By Product Expert | Posted in Volkswagen Jetta on Friday, February 15th, 2019 at 4:08 pm
The Volkswagen Jetta is a popular model that many sedan shoppers seek when buying or leasing their next vehicle. Not only does it have some cool new features, but it also has a fuel efficiency that is good for a family vehicle. The 2019 Jetta is no exception. Today, we will take a look at how much space you can expect to see on this model.
Cargo space and interior dimensions
Like most sedans, you'll be able to seat 5 people in your VW Jetta. Not exactly groundbreaking, but still nice, especially if you don't actually have that many people to fit in the sedan and can use the back seats as extra storage space. Speaking of storage space, you'll have a roomy 14.1 cu. ft. of it in the trunk of your Jetta. Plenty of room for bins, boxes, and bags.
When it comes to the interior dimensions, you'll have a total passenger volume of 94.7 cu. ft. to enjoy. This means you'll have a front volume of 51.2 cu. ft. and a rear volume of 43.5 cu. ft. Breaking it down, you'll have a front headroom of 38.5 inches, 41.1 in. of legroom and front shoulder room of 55.9 in. In the back, you'll have 37.2 in. for headroom, 54.0 in. of shoulder room, and 37.4 in. of legroom. Not too shabby for anyone looking for a spacious vehicle that isn't an SUV!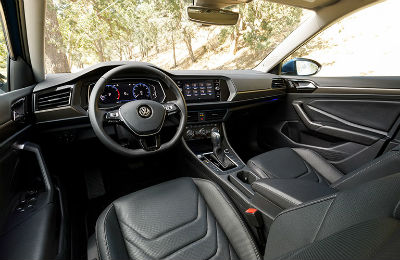 Read more: How safe is the 2019 Volkswagen Jetta?
Volkswagen Dealerships in Ventura, CA
Trying to find your next new or used VW vehicle? Come on over to Ventura VW today! As you might imagine, we are located right here in Ventura, CA, and are happy to help you find your next VW vehicle. If you have any questions please don't hesitate to contact us here at Ventura VW. Our team of experts would be happy to help!